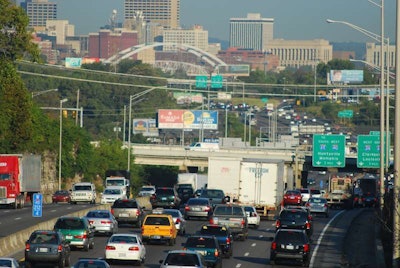 Tick, tick — again.
The latest highway funding stopgap measure has just six weeks until its expiration, Oct. 29. Coming off its annual August break, Congress appeared poised to tackle a long-term bill, with the Senate passing a six-year bill before clocking out early last month.
But with federal budget work, a looming fight over the debt ceiling, controversy over the president's Iran nuclear agreement and other matters facing lawmakers, we may again be facing the frustrating reality of business as usual in Washington: Another short-term patch that props up roads spending for only a few months.
Also, reports widely circulated last week about the better-than-expected outlook for the country's Highway Trust Fund may have thrown cold water on Congressional plans to expedite a long-term highway bill in the fall session, again pointing toward Congress settling for a short-term measure.
That appears to be what Rep. Bill Shuster (R-Pa.), head of the House's transportation committee, intends to do: Politico reported Friday that Shuster told reporters last week after a committee meeting the anticipated work on a long-term bill will likely be delayed. The House, he said, will likely produce another short-term patch in the coming weeks.
The DOT's HTF ticker, which was last updated Aug. 20, says the Highway Trust Fund now has enough cash to last about another year — a measure based solely on spending on existing projects. If Congress doesn't act before Oct. 29, the DOT won't be able to authorize any new projects for federal highway programs or keep its reimbursement obligations to states performing federal road work.
Though the Trust Fund ticker says one thing, the state of roads in this country says another. And that should be the real benchmark for the need for a robust, long-term highway bill, not the jingle of the coins in the Highway Trust Fund when rattled.
Senator Jim Inhofe, per reporting from CCJ sister publication Equipment World, also worries the DOT's "good news" about the ticker would further delay House action on a long-term highway funding package, saying the U.S. would miss another construction season by doing so and delay much needed highway repairs and new projects another year.
The Senate, whether you agree with the chamber's pay-fors or not, did muster enough support for a six-year bill, with the first three having guaranteed funding mechanisms in place. The bill also included a bevy of trucking related regulatory changes, highlighted by the removal of CSA scores from public view.
While many in the trucking industry may consider that a major victory, securing highway funding would be an even bigger victory for the industry, in spite of what's been read into the Trust Fund's ticker.
What do you think? Drop a comment below.