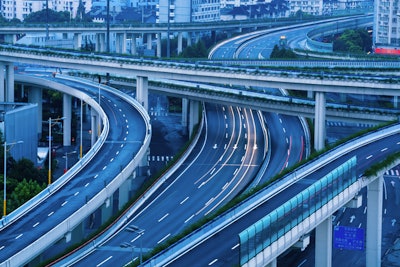 In an effort to help accelerate construction on infrastructure projects across the United States, the White House announced a set of actions Tuesday for federal agencies to help track the progress of the projects.
The Office of Management and Budget and the Council on Environmental Quality issued a guidance memo in a joint statement Tuesday to federal agencies that establishes a set a metrics for tracking the permitting and environmental review of infrastructure projects.
The guidance memo requires agencies to post project schedules, including all needed federal permits and reviews, as well as progress updates along the way.
The Federal Infrastructure Permitting Dashboard was created in 2012 to highlight nationally significant projects, but it will be updated to make it easier for anyone to find updates on major infrastructure projects as they progress through the permitting and review process.
"To deliver infrastructure projects that achieve real impacts for the American people, we need to act with urgency and recognize that every day counts," said Transportation Secretary Anthony Foxx. "[Tuesday]'s actions help us get there. We are pushing ourselves to improve efficiency, coordination and collaboration, so that federal permitting becomes a sprint rather than a relay race."
In its memo, the OMB said the Obama Administration has requested funding to upgrade the dashboard, but it says if the funds aren't appropriated by Congress, the OMB and DOT have already dedicated a portion of existing resources to begin the enhancements.
"The Dashboard is intended to facilitate interagency coordination and provide public transparency for a set of infrastructure projects that might experience a lengthy federal environmental permit and review, given their size, complexity and significance," the memo states.
Agencies must begin reporting to the dashboard on major projects on Oct. 12. Information submitted to the dashboard will be publicly accessible to "provide greater transparency into the permitting process for government employees, project applicants and the general public."
In addition, the Department of Transportation, Army Corps of Engineers, U.S. Coast Guard and four other agencies released an update to the handbook, Synchronizing Environmental Reviews for Transportation and Other Infrastructure Projects (better known as the "Red Book").
The "Red Book" give agencies, project sponsors and consultants a how-to guide on ways to improve the key permits and reviews required on the projects. This is the first update to the handbook since 1988.
"The Army Corps of Engineers is proud of partnering with other federal agencies to update the Synchronizing Environmental Reviews for Transportation and Other Infrastructure Projects, also known as the Red Book," said Assistant Secretary of the Army Jo-Ellen Darcy. "The Red Book supports more timely permit decisions, allowing a diverse set of infrastructure projects to advance through the permitting process in a more transparent and efficient manner. Infrastructure projects will be evaluated and permitted faster."