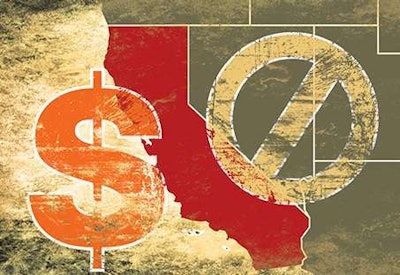 A Virginia trucking company will pay $100,000 to the Environmental Protection Agency and an additional $290,000 to California in the first federal enforcement of the state's Truck and Bus Regulation.
The EPA has fined Estes Express Lines $100,000 for lacking diesel particulate filters on 73 trucks operating in California. That represents 15 percent of the fleet Estes operates there, but the national carrier now only uses new trucks in the state.
Trucks are the largest source of air pollution in California, which has the worst air quality in the nation, the agency stated Oct. 8. The California truck rules, the first of its kind in the nation, were adopted into federal Clean Air Act plan requirements in 2012.
Privately-owned heavy-duty diesel trucks that operate in California must meet the state's emissions requirements or use DPFs.
The private LTL carrier will also pay $255,400 of the $290,000 to the San Joaquin Valley Air Pollution Control District's Burn Cleaner Incentive Program. The program reduces the region's particulate matter from older wood-burning devices by helping residents replace them with natural gas inserts or EPA-certified devices. The remaining $35,000 will go to the University of California Davis Extension to start a state training program to educate out-of-state trucking firms on compliance with the rule.
Last February, the EPA notified Estes that some trucks operating in California lacked the filters on some trucks and it had failed to verify compliance with the Truck and Bus Regulation for its hired motor carriers.