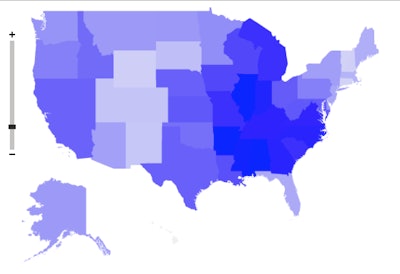 Truckload rates on the spot market remain highest in the southeast region of the U.S., according to data from loadboard Truckstop.com.
The map here shows the average per-mile rate for each state based on verified transactions on Truckstop.com's loadboard, encompassing van, reefer, flatbed and specialized loads. The rates shown are averages of the rates paid to carriers from Oct. 5-11.
As the heat map above shows, the northeast is the country' weakest region for rates, while the South, the Deep South in particular, continues to post rates well above the country's average.
Arkansas posted the highest rate averages, $2.49, while Rhode Island had the cheapest, $1.71.
Per-mile rates averaged $2.18 in the week for the entire U.S., according to the data. Van averaged $2.05, flatbed $2.23 and reefer $2.21. Those numbers signal a continued decline in the van rate average, but increases for flatbed and reefer segments.