CCJ Indicators rounds up the latest reports on trucking business indicators on rates, freight, equipment, the economy and more.
---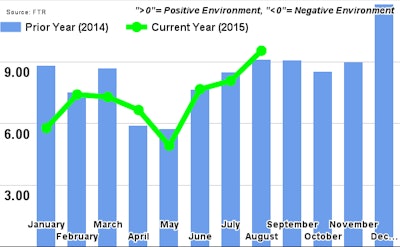 Trucking conditions see continued strength, outlook positive: FTR's monthly Trucking Conditions Index in August showed continued positive conditions for trucking companies, FTR reported this week. Its reading of 9.35 reflects "healthy freight growth projections," FTR said. The index has been climbing for several months and should continue its upward momentum, FTR notes, especially into 2016 as new trucking regulations take effect.
"Even with capacity utilization easing some, truckers are still able to make money," says FTR President Eric Starks. "This is translating into healthy demand for equipment as orders for trailers have remained strong. The strong TCI is in contrast to some economic indicators that suggest the economy is stagnant. Even with the economy painting a mixed picture, trucking conditions are still expected to remain at levels that are healthy through the end of this year."
---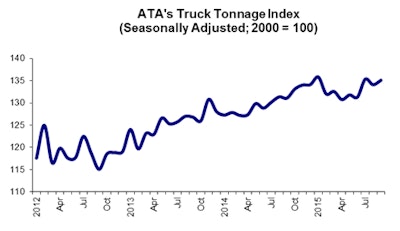 Tonnage remains strong: The amount of freight carried by the for-hire trucking industry, as measured by ATA's monthly Truck Tonnage Index, rose 0.7 percent in September from August, ATA reported this week. Tonnage was also up 3.1 percent from last September, ATA said, and was up 3.3 percent year-to-date.
"The see-saw pattern in truck freight tonnage continued again in September, except that the gain didn't fully wipe out August's decline" said ATA Chief Economist Bob Costello. "However, over the last few months tonnage has snapped back from softness this past spring and early summer, and is approaching the record high."
Costello did caution, however, that the current high level of inventories could put downward pressure on tonnage in the coming months.
---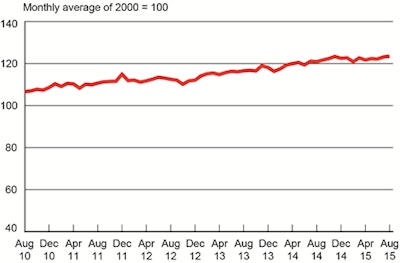 DOT reports small freight increase in August: The DOT's monthly Freight Transportation Services Index, a measure of how much freight is carried by for-hire transportation, rose 0.2 percent in August from July. Trucking showed big gains in the month, the DOT says, while nearly all other modes — air, pipeline, rail and waterborne freight — carried less in August than July. Year-to-date in August, freight movement was up 0.8 percent. Compared to last August, freight shipments climbed 2.1 percent. Freight shipments in August, however, were at an all-time high, the DOT says — a continuation of recent trends.