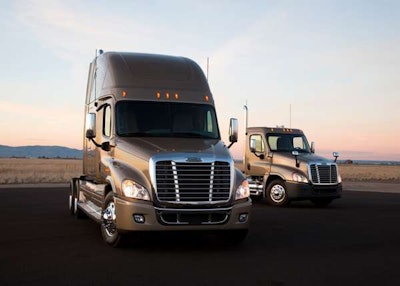 Daimler Trucks North America said it is near completion with the development of a new telematics platform with connected vehicle communications hardware that will allow flashing over the air (FOTA) capabilities, including remote vehicle parameter settings, remote flashing of electronic controller firmware updates and download of Detroit Diesel Engine Control diagnostic reports.
The new platform uses cellular service connectivity for FOTA and will integrate with third-party applications, reducing the need for additional hardware. The system will be available on select truck models in 2017.
"Vehicle connectivity is going to continue to have a significant impact on how customers do business, and DTNA will continue to push the envelope to be part of that evolution," said Matt Pfaffenbach, DTNA's director of technology.
DTNA also announced new features for Detroit Connect, the company's connected vehicle solution, and the Virtual Technician remote diagnostic system, to further improve integration and communications.
A new portal with Detroit Connect will allow users to access more detailed information about specific fault events communicated by Virtual Technician.
The portal will serve as the access point for all services offered by Detroit Connect and will include options for communications, reporting and subscription management customization. It also will allow users to view and archive DDEC diagnostic reports to better track driver and vehicle performance.
The portal currently is being piloted with select customers and is expected to officially roll out by mid-2016. It will be available on all Freightliner and Western Star models with Detroit engines.
"Every customer has different concerns and ways of analyzing and acting on fault information, so we developed the portal to specifically make the fault information as manageable and consumable for every priority," said Pfaffenbach.