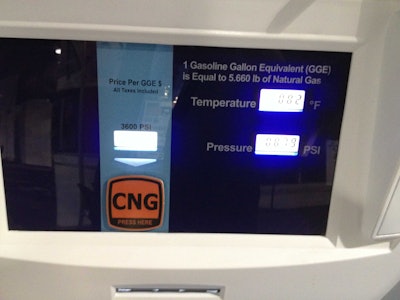 Compressed natural gas operators in northern Georgia now have a second option to refuel with the opening of amp Trillium's first station in the area in Dalton, Ga.
Located near Exit 326 on Interstate 75, the new station enables three Class 8 trucks to fuel simultaneously at 10 diesel-gallon-equivalents per minute.
This station is ampCNG's second in the state of Georgia – the first opened in Perry, Ga., in March 2014 to service Frito-Lay's fleet. The Dalton station will serve Dalton Utilities' fleet and is also open to the public.
"amp Trillium is pleased to open its latest station in Dalton," said Donna Rolf, president of ampCNG. "This is a major U.S. manufacturing hub and a key gateway between Atlanta and the Midwest. This new CNG refueling station will help the many local manufacturers meet their supply chain sustainability goals and serve CNG-powered trucks traveling along I-75 in Georgia, one of the country's major freight corridors."
amp Trillium now operates 23 CNG stations across the country, including in nearby Perry, Georgia, and Newport, Tennessee. It will continue to open several more in its mission to create a wide-reaching network of CNG refueling stations along trucking corridors throughout the United States.