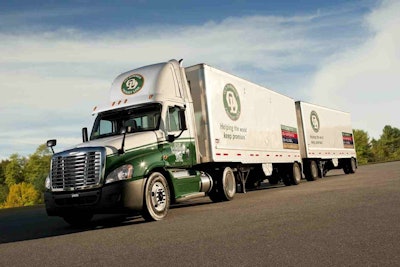 The Senate added an amendment Wednesday morning to its 2016 DOT appropriations bill that keeps in place the 28-foot maximum length of double trailers.
The Senate's original legislation included a provision to increase the limit to 33 feet, but an amendment brought to the Senate floor by Sen. Roger Wicker (R-Miss.) stripped the bill of the provision. It was agreed to by a voice vote Wednesday.
Wicker called the amendment a victory for small business truckers.
The American Trucking Associations, however, has said it is "disappointed" by the Senate's move, calling an increase in the twin trailer limit a "common sense productivity" measure for the trucking industry. "It is unfortunate the Senate has chosen to give up on what could be a very beneficial change in policy," said ATA President and CEO Bill Graves. "This modest increase in tandem trailer length would reduce the number of truck trips needed to move an increasing amount of freight while making better use of a dwindling pool of drivers."
Driver, labor and owner-operator groups have opposed the measure since it was first floated earlier this year.
The amendment to the Senate bill comes a week after the Senate passed a resolution instructing its conferees in the current highway bill negotiations to reject any measures to add the 33-foot proposition to the long-term highway bill being hammered out by lawmakers now.
The Senate resumed work on its DOT funding bill — after tabling it in June — at the same time highway bill conferees began work to produce a unified long-term highway bill.
The Senate could vote this week on a motion to bring its DOT funding bill to the Senate floor for a full vote.
The House's 2016 DOT-funding bill, which Congress' lower chamber passed earlier this year, does include the 33-foot provision, so if the Senate passes the bill, there are still hurdles for the legislation to make it to the president for a signature. Either the House will have to take up the Senate version and pass it, or the two chambers will have to form another conference committee to work out a new bill.
The Senate DOT funding bill would also, like the House's, further entrench 2014's suspension of certain hours-of-service regulations. The new law would require FMCSA to prove, prior to the suspended hours-of-service rules going back into effect, that the 2013-implemented 34-hour restart rules are safer than pre-2013 rules. Click here to read more on the Senate bill from prior CCJ coverage.