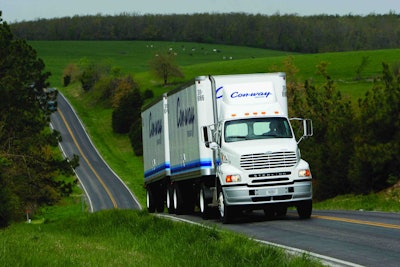 The full U.S. Senate has directed its highway bill conference committee members to not pursue an increase to the current federal combination trailer limit of 28 feet, following moves this year in Congress to up the limit to 33 feet.
Sen. Roger Wicker (R-Miss.) and Sen. Dianne Feinstein (D-Calif.) spearheaded the effort. The motion passed the Senate Tuesday, Nov. 10, by a vote of 56-31.
Members from both the House and Senate are meeting in a conference committee to produce a unified highway bill to bring back to their respective chambers.
Earlier this year, the Senate Appropriations Committee approved an amendment to a 2016 DOT funding bill that would allow 33-foot doubles. A House bill also included language that would allow twin 33s. Both of those bills, however, are on the backburner due to broader Congressional budget squabbles.
Several Congressional measures this year have added fuel to the current size/weight debate in the U.S. In addition to the 33-foot provisions in federal appropriations bills, other standalone legislation would allow states to increase their weight limit to 91,000 pounds, up from the current 80,000-pound limit. The House also dealt with the 91,000-pound measure in October when finalizing its version of a long-term highway bill. The measure ultimately failed, however.
In June, the DOT released the results of a Congressionally mandated study on size and weight changes and impacts it could have on freight movement and U.S. infrastructure. It concluded, however, it does not have enough data about truck size and weight to be able to make recommendations to Congress or regulators about changing the current truck size and weight laws.