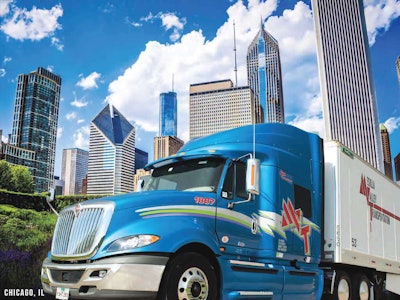 SmartDrive announced that Mesilla Valley Transportation (MVT) has selected its video-based safety system. During a pilot test, MVT saw improved performance in key areas that are predictive of collision frequency and severity. The areas include an 80 percent increase in seat belt compliance, 88 percent reduction in speeding and 50 percent decrease in distracted driving.
"The SmartDrive platform delivers actionable insights, making it easy to identify areas of risk, focus our driver coaching where it is most impactful and accurately measure the results," stated Royal Jones, president, Mesilla Valley Transportation, in a news release. "When an incident occurs and our team can definitively demonstrate that it wasn't our driver's fault—it just doesn't get any better than that."
Headquartered in Las Cruces, New Mexico, MVT operates more than 1,300 tractors and specializes in time-sensitive service between major manufacturing centers in the U.S., Canada, and the Mexican border region. The company is a member of American Trucking and Transportation Insurance Company (ATTIC), a risk retention group formed by top safety-minded trucking companies.
Dean Rigg, Mesilla Valley's chief financial officer, and his team selected SmartDrive based on key capabilities unique to the platform including its patented ability to capture U-turns, aggressive swerves and other risky driving maneuvers; its triggering based on real-time data from third-party onboard systems; and its intuitive user interface.
Mesilla Valley has onboard collision mitigation systems deployed across its fleet. SmartDrive has visibility to when the active safety system is engaged, the vehicle's following distance and speed, and other engine performance information that identifies risk predictive of collisions, stated Steve Mitgang, CEO of SmartDrive.
"Mesilla Valley is part of the larger trend we're seeing in which fleets choose solutions that seamlessly work with other systems on the vehicle, providing them with more value and protecting their investment as the pace of innovation continues to accelerate," Mitgang said.
During the two and one-half month pilot program, Mesilla Valley Transportation identified 58 U-turns on public roadways. The company prohibits drivers from making these high-risk maneuvers, but was unable to monitor for these turns before implementing SmartDrive. With the video-based platform, driver managers can not only identify the offending drivers, but also step in immediately to provide coaching and eliminate future risk.
"With the program, we know what the driver did correctly, where improvement is needed, and what contributing factors—positive or negative—may have played a role," noted Jones. "With video of on-road events, we can avoid a lengthy legal fight and a protracted insurance claims process based on incorrect or incomplete information. Ultimately, this saves us money and keeps our trucks on the road, generating revenue for the business."