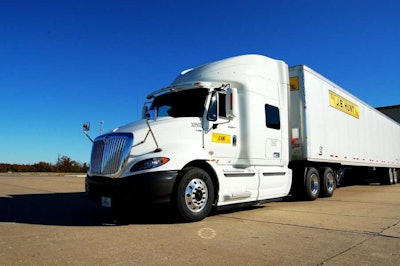 J.B. Hunt, the fifth largest carrier int he country, announced an expansion of its facilities and the creation of numerous new jobs recently.
The Lowell, Ark.-based company last week said it's building a 133,000 square-foot office building at its headquarters and creating 1,000 jobs over the next six years. The project is expected to be complete by the spring of 2017.
Hunt already employes some 20,000 people at 400 facilities across the U.S.
Arkansas Gov. Asa Hutchinson and Lowell Mayor Eldon Long joined Hunt CEO John Roberts in announcing the project.
"J.B. Hunt is an Arkansas institution and one of our state's best entrepreneurial success stories," said Hutchinson. "The company started small more than 50 years ago, and they have proven that hard-working, talented employees and great leadership can propel you to the top. J.B. Hunt has been a positive economic driver in Arkansas and has shown an unwavering support for our community. We are excited about J.B. Hunt's future growth."
J.B. Hunt is ranked fifth on the Commercial Carrier Journal list of the Top 250 trucking companies in the U.S.
"In the past five years, J.B. Hunt has been successful in growing revenues from $3.8 billion to $6.2 billion," CEO John Roberts said. "This accomplishment would not be possible without our dedicated employees. As J.B. Hunt's mark on the transportation industry gets larger, so will our workforce. Many new, full-time jobs will be created during the next six years to aid in this growth."