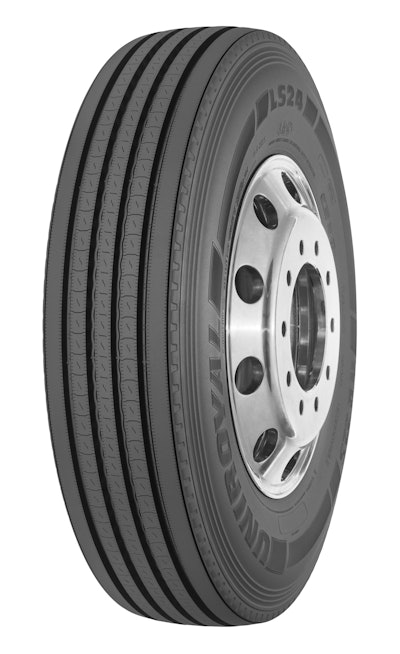 Uniroyal announced Wednesday the nationwide roll out of its line of budget-friendly commercial truck tires to the U.S. market.
Donna Murphy, business segment manager for Uniroyal Commercial Truck Tires, says the line of six tires, which include trailer, steer and drive axle tires, will target price-conscious owner operators and small fleets.
The intermediate and budget-price segment of the commercial tire market, according to Murphy, has been growing and the retreadable Uniroyal entries will be parent-company Michelin's offering to long-haul, regional and on/off road applications in the segment.
Tires began shipping to distribution points this week and should be available by week's end, Murphy adds.
Launched Wednesday were: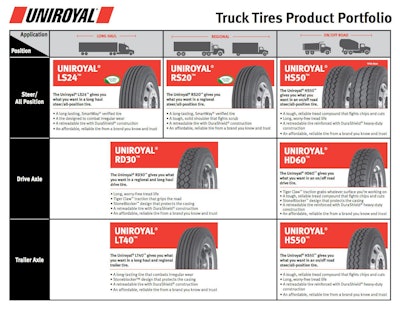 Uniroyal LS24: SmartWay verified long-haul steer and all-position tire
Uniroyal LT40: Long-haul and regional trailer tire
Uniroyal RS20: SmartWay verified regional steer and all-position tire
Uniroyal RD30: Regional and long-haul drive tire
Uniroyal HS50: On/off-road steer and all-position tire
Uniroyal HD60: On/off-road drive tire
"The total offering is 28 sizes," Murphy says, "with 26 available now and the other two coming available March 1."
The two not yet available are HS50 425/65R22.5 and RS20 255/70R22.5.
Each tire will feature Uniroyal's DuraShield construction, which Murphy says uses pyramidal steel belts, insulating belt edge strips and a heavy-gauge inner liner to reduce stress and protect the tire casing.
Uniroyal commercial truck tires are backed by a four-year manufacturer's limited warranty. Certain long-haul and regional applications are also covered by a one-retread limited warranty.