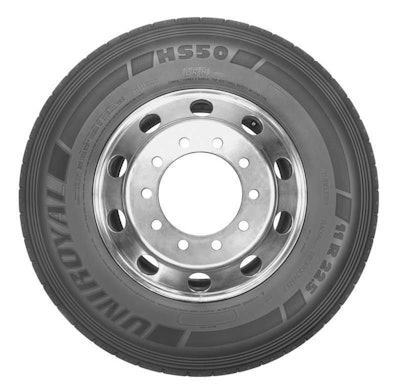 Uniroyal announced Thursday the addition of two new sizes for its commercial truck tire line.
The Uniroyal RS20, a SmartWay-verified regional all-position tire, is now available in a 255/70R22.5 size for regional pick-up and delivery vehicles and trailers. The Uniroyal HS50 is now available in a 425/65R22.5 size for on-/off- road dump trucks and concrete mixers.
"Uniroyal is expanding its line of commercial truck tires to meet the needs of two important customer segments: regional pick-up and delivery and construction," said Darlene Shepherd, business segment manager, Uniroyal Commercial Truck Tires. "These additions bring affordable and dependable solutions for the small fleets and owner-operators we serve."
Launched in January 2016, the Uniroyal tire portfolio now consists of six tread designs with 28 total sizes.