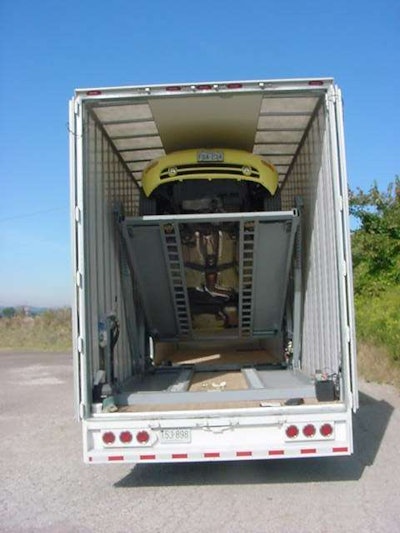 In a partnership with Kentucky Trailer, RAD Auto Transport Modules has developed on line of removable equipment for drop frame trailer vans, which allows them to convert into enclosed auto haulers.
The removable hydraulic equipment is a self-contained module, which can be slid into drop frame/electronics van trailers to create a full load, enclosed car hauler.
"Everything is self-contained because the system has its own hydraulic pump, tank and valve and a battery power pack," says Ernest M. Dandridge Jr., whose Carrier Design Services, Inc., helped design the product. "There is no need to have any special equipment on the tractor or have any special configuration on the tractor."
That the unit is all self-contained it eliminates the need for a PTO, meaning any truck in a fleet could turn car hauler with no special fitment.
"If you had a breakdown and stopped by a Ryder or Penske to get any Class 8 rental, you could hook up and drive away," Dandridge says.
Another benefit of it the unit's self-containment, it can also be moved in and out of various trailers in a fleet.
The upper decks pivot on any angle or go down to the trailer floor and can be installed in under an hour, Dandridge adds.