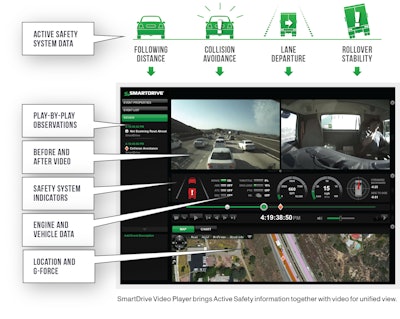 SmartDrive Systems announced that its Assurance 360 product has been named a winner in the 2016 BIG Innovation Awards presented by the Business Intelligence Group.
The BIG Innovation Awards recognize organizations and people that bring new ideas to life. This year, 47 companies were recognized as winners.
"We're proud to be recognized for our continued innovation in video safety with an open platform that offers more options for fleets, more protection for their drivers and faster results for their business," stated Steve Mitgang, SmartDrive CEO.
The SmartDrive Assurance product line is designed for commercial fleets to reduce safety and compliance-related incidents. The video-based safety program can be configured with up to four cameras for a 360-degree view of the vehicle for visibility to risky driving behaviors like U-turns, backing, unintended lane changes, roll-overs, close following and more.
"It was clear from our judges that SmartDrive was clearly deserving of being recognized as a leader in innovation and we are proud to award them the 2016 BIG Innovation Award," said Russ Fordyce, managing director of the Business Intelligence Group.
Organizations from across the globe submitted their recent innovations for consideration in the 2016 BIG Innovation Awards. Nominations were judged by a select group of business leaders and executives who volunteer their time and expertise to score submissions and provide feedback.