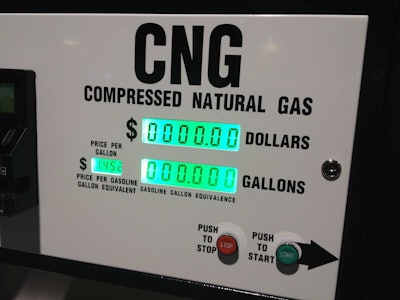 With diesel prices hovering near $2, and having dropped each of the past 13 weeks, sales of natural gas-powered Class 8 trucks have followed the downward course.
With diesel falling weekly for more than three months, Ken Vieth, ACT Research senior partner and general manager, says payback has become less of an advantage.
"With the fuel price differential continuing to narrow, the ROI to convert from diesel to natural gas is moving in the wrong direction," he says. "Payback periods are lengthening."
November natural gas heavy duty retail sales slipped 28 percent month-over-month in November and year-over-year. However, year-to-date volumes are just 1 percent below 2014 levels. Sluggish sales of natural gas units hasn't slowed the development of the infrastructure needed to support it in some locations.
"We've learned that despite the current fuel price differential, NG infrastructure continues to be built, albeit at targeted locations," Vieth adds, "and that existing NG equipment users remain committed to its long-term viability and emission benefits."
Vieth says ACT Research sees growth of the adoption of natural gas as a fuel for transportation in the U.S., but doesn't expect to see double-digit sales expansion on the horizon over the next few years.