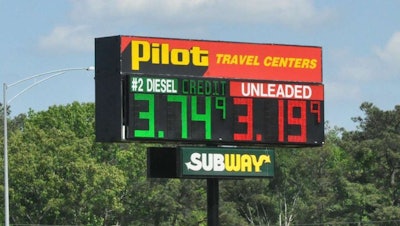 Former Pilot Flying J president Mark Hazelwood has been indicted on several counts of various fraud and conspiracy charges stemming from Pilot Flying J's widespread fuel rebate fraud scheme that came to light in April 2013.
Seven others were also indicted Tuesday, including the company's former VP of Sales, John Freeman.
Hazelwood, who was indicted Tuesday, Feb. 9, on 10 counts of fraud and three counts of making false statements, joins about a dozen other former Pilot employees facing criminal charges in the scheme, 10 of whom have already pleaded guilty to their alleged roles in the scheme.
Pilot said in a statement it is "disappointed and saddened" by the indictments, and that it could not comment further. "The company has cooperated with the investigation since its beginning and will continue to do so. The company repaid affected customers, accepted legal responsibility, and agreed to pay a monetary penalty. The trust and confidence of Pilot Flying J's customers continues to be of paramount importance to the company and their continued support and loyalty is very much appreciated."
Since the fuel rebate scheme was uncovered, Pilot has settled both the civil and criminal cases against the company, doling out $85 million to 5,500 trucking companies to resolve the civil suits and $92 million to the Department of Justice to resolve the criminal charges. The criminal settlement absolved the company of future punishment, but prosecutors can still pursue action against individuals allegedly involved in the case.
Hazelwood left Pilot in the wake of the 2013 FBI raid on the company's Knoxville, Tenn., headquarters. Federal authorities sent him a "target letter" in September 2014, notifying him of a pending criminal investigation into his alleged involvement in the scam. Freeman was fired around the same time Hazelwood left the company.
Court records, including a 120-page affidavit released in April 2013, include transcripts of conversations – secretly recorded by an FBI informant working for Pilot — held between Hazelwood, Freeman and other Pilot employees allegedly discussing the scam and how to use it against trucking companies who signed diesel fuel purchasing contracts with the truck stop chain.
Authorities accused Pilot Flying J of covertly denying carriers tens of millions of dollars in owed fuel rebate checks by intentionally and systematically changing diesel price figures after carriers had purchased the fuel. The scheme, according to authorities, was said to have lasted nearly a decade.
In its July 2014 agreement with the U.S. Justice Department, Pilot agreed to submit regular reports to the DOJ on internal compliance reviews and steps it has taken to prevent such a scheme from reoccurring.
Pilot owner and CEO Jimmy Haslam, who has not been identified as a target in any criminal investigations, has maintained he knew nothing about the scheme and has denied any involvement in it.