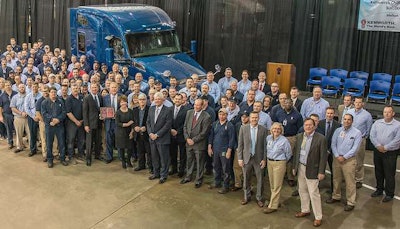 Kenworth's factory in Chillicothe, Ohio recently produced its 500,000th truck – a T680 76-inch mid-roof sleeper with a Paccar MX-13 engine that was presented to Tulsa, Okla.-based flatbed carrier Melton Truck Lines.
"Melton has supported its high standards by adding more than 500 reliable and comfortable Kenworth T680s to its fleet in the past two years, with 400 more to come in 2016," says Preston Feight, Kenworth general manager and Paccar vice president. Melton currently operates more than 1,100 Kenworth trucks.
Feight presented a special commemorative plaque and the keys to the new Kenworth T680 to Bob Peterson, Melton Truck Lines chairman and CEO and his wife, Cindy Peterson.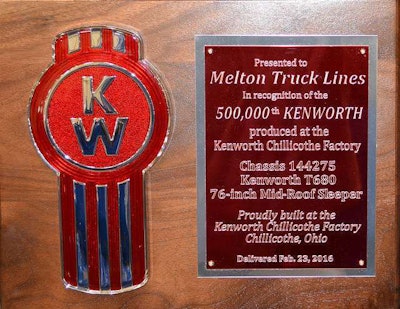 The milestone Melton T680 was spec'd with the Eaton Fuller Advantage 10-speed automated transmission, Kenworth TruckTech+, and driver comfort features such as the T680's drawer-style refrigerator and freezer, television installation package, liftable lower bunk, and stowable folding upper bunk.
"This 500,000th truck milestone is a tribute to the excellent tradition of building quality, dependable, hard-working Kenworth trucks which began at Chillicothe with the first truck in 1974 and continues to this day," says Judy McTigue, Kenworth – Chillicothe plant manager.