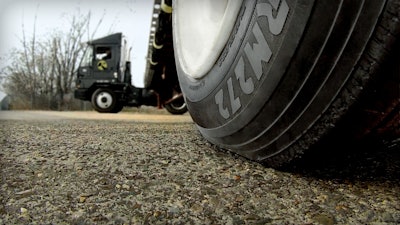 STEMCO has partnered with TrackPoint Systems to develop a platform that allows fleets to track tire pressure and mileage for untethered trailers.
Using real-time information, TrackPoint Systems TrIPS solar-powered monitoring technology enables fleet managers to improve fuel economy, reduce road calls and increase tread life by ensuring trailers are not dispatched from a parked location without sufficient air pressure.
"Fleets will now be able to get accurate and timely information about tire pressures and mileage for remote trailers," says Chris Steph, product manager of STEMCO Innovative Tire and Mileage Solutions. "This is a great solution for lease and rental fleets because it can help with accurate billing and ensures vehicle readiness."
The new partnership will bring real-time tire pressure and mileage information to TrackPoint users while also improving billing accuracy and reconciliation ability for rental and lease fleets by eliminating inaccuracies that can arise from estimating mileage for unavailable trailers and from the use of low-sample-rate GPS technology, STEMCO says.