The Federal Motor Carrier Safety Administration proudly announced last week its roadside inspection efforts in 2012 prevented 472 on-highway deaths that year, a number it referred to as "lives saved" in its Feb. 29 announcement.
That's not a number to balk at, even if the math can be a bit fuzzy calculating such measures. If accurate, that's nearly 500 people who made it home on a day they might not have otherwise — truck operators included — and the agency and its inspection partners deserve praise for that and for the estimated 7,000 lives it says its inspection efforts have saved since 2001, if the numbers are true.
But as the American Trucking Associations and new compliance firm TransComply were quick to point out, the number of "lives saved" via FMCSA's inspection efforts has seen a steady and sharp decline since 2006, as has the number of inspections resulting from traffic enforcement, such as an inspector stopping a truck for speeding or other traffic-related violation and then performing an inspection in the same stop.
The drops in enforcement-related inspections and deaths prevented comes in spite of annual increases in funding for enforcement and inspections, says ATA's Rob Abbott, head of regulatory affairs.
According to FMCSA's own data, the number of inspections resulting from enforcement in 2012 was 510,083 — nearly half of the 900,260 inspections performed from Oct. 2005 through September 2006, per FMCSA's figures.
2012 wasn't an outlier, either. It was the continuation of a trend that began in 2007 and has continued each year since, save for a small jump in inspections in 2008 from the year prior.
A look at the agency's data set: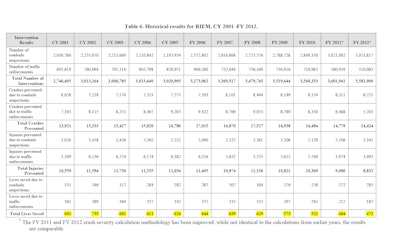 "We think it's concerning," says Abbott. "The [numbers] suggest a steady decline in traffic enforcement and a decline in the number of lives saved. Hopefully this picture is not an accurate one, but we're fearful it might be."
TransComply says another 169 deaths could have been prevented in 2012 had the agency's enforcement numbers remained stable.
TransComply's president, Avery Vise, also told CCJ that an estimated 360,000 enforcement inspections occurred in 2015. Extrapolating from available data and FMCSA's methodology, the agency's inspection efforts prevented 461 deaths in 2015, Vise says, but another 224 deaths could have been prevented had the traffic enforcement inspections remained at 2006 levels. This trend, Vise said, "is alarming," if accurate.
FMCSA spokesman Duane DeBruyne emphasized in an email to CCJ that its numbers are estimates. Further, he said, the decline in traffic enforcements stems not necessarily from a reduction in stops and inspections, but rather in how the data is gathered.
"[The] model, as any model must, applies assumptions," he says of the agency's Roadside Intervention Effectiveness Model, which FMCSA uses to produce its lives saved estimates. "In the case of the RIEM, it is about the risk associated with certain violations and the subsequent relation of fatalities and injuries to commercial motor vehicle crashes," DeBruyne says.
Vise, likewise, also offered an alternative analysis to the agency's figures, saying it could be that the agency's efforts have improved carrier safety, thereby lowering the number of enforcement inspections and number of lives needing to be saved.
"Unfortunately, we don't know because FMCSA currently captures no usable data on traffic enforcement that occurs without a reported inspection," he says.
–Matt Cole contributed to this report.