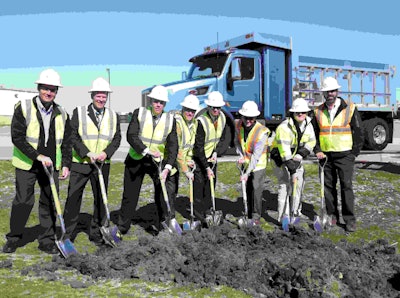 Peterbilt Motors Company recently broke ground on a 102,000 square-foot expansion to its heavy-duty truck manufacturing facility in Denton, Texas.
Darrin Siver, Peterbilt general manager and Paccar vice president, says the expansion is Peterbilt's largest facility investment since the construction of the Denton plant 35 year ago, adding the new building will be located just north of the plant and provide additional capacity for production and testing.
The expansion is expected to be operational in January 2017.
Last year Peterbilt began a multi-phase plant improvement project that increased receiving capacity on the east side of the plant and added an expansion to the west side of the plant. The third phase, which will be completed in October, creates a new painted parts storage and retrieval system on the second level of the building.