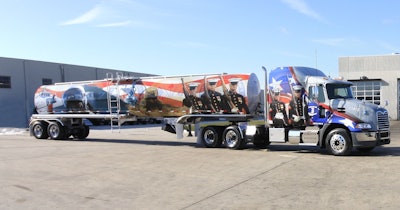 The Federal Motor Carrier Safety Administration has launched a webpage dedicated to providing resources for military veterans who want to transition into careers in the trucking industry.
The site, which can be seen here, provides updates on initiatives in development from the December-passed FAST Act highway bill, information about existing FMCSA programs for veterans, information about the Military Skills Test Waiver Program, partnership initiatives and job resources for veterans.
Some initiatives outlined in the FAST Act include a rule introduced this week that would allow veterans more time to apply for a skills test waiver and apply for a CDL in a state in which they are stationed. The FMSCA is also required by the bill to establish a process in which veterans can obtain their DOT medical certification forms from their Veterans Affairs doctor. The FAST Act also outlines a military pilot program that would allow select military personnel between the ages of 18 and 21 to operate CMVs in interstate commerce.
The skills test waiver program, enacted in 2011, has been used by more than 10,000 former military personnel, according to the FMCSA.
Currently, the FMCSA works with several groups to help provide opportunities to veterans including the U.S. Chamber of Commerce's Hiring Our Heroes initiative, the Army's Soldier for Life program, the International Brotherhood of Teamsters' Helmet to Hardhats program and the American Legion's Veterans Employment and Education Commission.