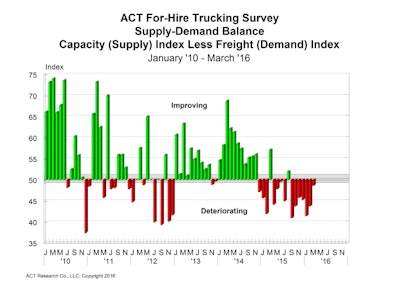 The capacity index (supply) rose faster than the freight index (demand) for the seventh consecutive month and the 12th time in the past 14 months in March according to the most recent ACT For-Hire Trucking Index from ACT Research Co.
"In addition to ongoing weakness in domestic manufacturing, an inventory overhang continues to exacerbate new freight creation," says Kenny Vieth, ACT's president and senior analyst. "A return to normal inventory levels in the broader economy is the first step to improved freight market performance. However, to date the correction has been slower than expected in coming."
CCJ's Indicators rounds up the latest reports on trucking business indicators on rates, freight, equipment, the economy and more.