Editor's note: This is the second of a 4-part series on the evolution of big data in trucking. This installment looks at apps that put predictive intelligence in the hands of drivers. Part 1 (yesterday) gave an inside look at one carrier's approach to simplify compliance.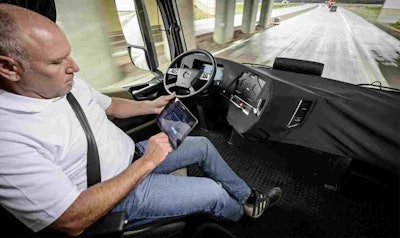 More than 10 years ago, Omnitracs Analytics created predictive models that can determine which drivers are most likely to be in accidents, file workers comp claims and quit. The division of Omnitracs also created a driver fatigue model that uses sleep science and electronic log data to predict when and how much sleep drivers obtained in a 24-hour period.
For companies that use the fatigue model, each driver in the fleet has a real-time fatigue score to identify those who are the most at-risk.
Going forward, Omnitracs Analytics plans to make predictive models adaptable to users at all levels in a company, including drivers, says Brad Taylor, vice president of data and Internet of Things solutions for Omnitracs.
"Now we are trying to empower everyone," he says.
Omnitracs has invested in a navigation app as a foundational piece in this effort. Rather than send drivers alerts if they exceed the posted speed limits, Taylor says the analytics will be able to identify the cause of the risky behavior and recommend a solution directly to the driver, before the risky behavior is likely to occur.
The analysis may show a pattern of speeding events for one driver near his home terminal, for example. A message could be sent through the navigation app after the following manner: "During the last 100 miles of your trip you tend to speed up. Watch your speed."
"What we are working on here is knitting everything together with navigation," Taylor says. "That is how you get to the point where you can make those type of recommendations to the driver."
Fuel efficiency is another area of focus to give prescriptive information directly to the driver. PedalCoach from LinkeDrive, Z-Fuel from Zonar, TrueFuel from Vnomics (and others) give drivers a score for fuel performance that is independent of factors they cannot control such as equipment type, load weight, topography and other operating conditions.
Vnomics TrueFuel also gives drivers instant feedback — a distinctive beep — when drivers exceed the RPM threshold for optimal fuel economy, which for most vehicles is 1,500, says Mari McGowan, director of market development.
At the end of each trip, the TrueFuel device tells the driver a fuel efficiency score based on a scale of 100. Additional details like the gallons a driver wasted over a certain time period or how much time they spent in each gear are available for review through a fleet management web portal.
Stay tuned for part 3 (tomorrow) to learn about technology motor carriers are using to gain fresh insights from their data to solve business challenges.