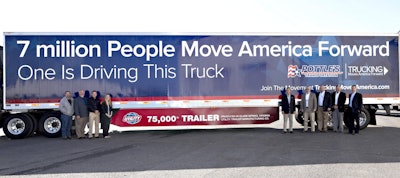 Five years ago today, an EF-3 tornado – with winds upwards of 130 mph – ripped through Glade Spring, Va., a town of barely 1,500 people and long John Daly tee-shot from the North Carolina and Tennessee state lines.
Glade Spring is the hometown of Leo Shoals, who won the Minor League baseball Triple Crown in 1951 with a then-and-short-lived record of 55 home runs in a single season. Minor League baseball.
It's also the home of a Utility Trailer Manufacturing plant, but that April tornado five years ago nearly took the facility apart, killing three townspeople and injuring 50 more.
Within hours in the aftermath, Utility employees began the process of rebuilding. The plant reopened at full capacity two weeks later. The facility then expanded with a second assembly line almost exactly a year later.
In 2013, the plant produced its 50,000th dry van trailer and this month – just 15 days short of the five year anniversary of the tornado – the facility held a celebration to recognize production of its 75,000th 4000D-X Composite dry van trailer. The unit was purchased by long-time customer Pottle's Transportation.
On April 27, 2011 – just a day before the Glade Spring tornado, and five years ago yesterday – an EF-4 tornado nearly blew my hometown, Pleasant Grove, Ala., off the map after tearing Tuscaloosa, Ala., the city from which I work, to pieces.
I've lived through a handful of tornadoes, including an EF-5 in 1998 that – for a while – held some kind of record most people want nothing to do with. I lost a couple classmates in that one. Several others lost their houses and everything in and around them.
I've seen firsthand how long a city's rebirth can take in the wake of so much devastation and ugliness, but I've also seen how awesome that process can be once its complete.
Congratulations to the employees at the Glade Spring Utility plant. That's an accomplishment that everyone in towns across the country – Tuscaloosa, Pleasant Grove, Joplin, Mo. and countless others – can celebrate with you.