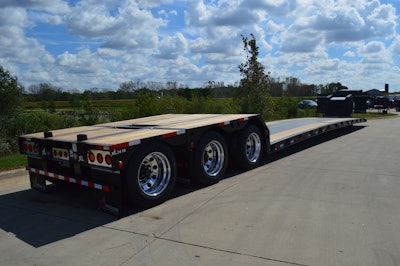 XL Specialized Trailers, has added a new lowboy to its lineup.
The XL 80 Mini-Deck Hydraulic Detachable Gooseneck (HDG) lowboy features a loaded deck height of 12 inches with 4 inches of ground clearance and an empty weight that allows scaling to maximum payload. It is available with a capacity rating of 80,000 pounds overall and 80,000 pounds in 16 feet concentrated.
"The 60 Mini-Decks, which we launched last year, have been very popular," says Rodney Crim, vice president of sales at XL Specialized Trailers. "So we know building more Mini-Deck solutions would also be useful for our customers. The versatility our Mini-Decks offer really allows them to do a lot with one trailer."
The trailer, which is comprised of T-1 flange and 80K web, features an 11-foot long full-width platform with a low-profile hydraulic neck. This platform provides additional loading or storage space, the company says. Equipped with a Honda Power 13-horsepower unit, it allows the user to raise and lower the neck into one of the five ride height positions with ease. A 36-inch flip neck extension is for using a four-axle truck.
The Mini-Deck meets bridge clearance laws without sacrificing strength and XL's 3-beam design uses a center box beam results in a lighter main deck, which is only 8 inches tall. 4-inch junior I-beams on 18-inch centers join the box beam and the side rails. The design has steel over the center deck and apitong decking in the outer bays for added traction when loading.
The 48-foot long trailer offers 28 feet in the well for maximum loading area.
This trailer is also equipped with 10 bent D-rings per side on the main deck plus two per side on both the upper and rear deck and two in the tail channel; 4-inch tapered front ramps; manual ride height control; LED lighting with an amber strobe; a liquid-filled air gauge; and an Air-Weigh digital scale. The XL Mini-deck is prepped for a Flip Axle, to add additional axles when needed to meet various regulations.