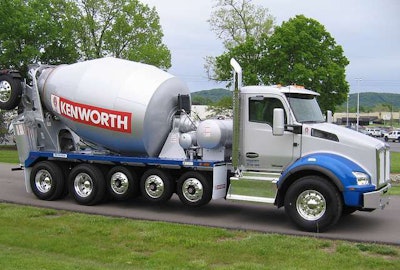 Kenworth says it will now offer the fully automatic 7-speed Allison 4700 Rugged Duty Series (RDS) transmission on the 116.5-inch BBC Kenworth T880 short hood spec'd with a Paccar MX-13 or MX-11 engine.
Kurt Swihart, Kenworth marketing director, says the Allison 4700 RDS allows truck operators to creep slowly and perform other low-speed maneuvers handy in ready-mix applications where drivers require a truck with maximum speed control for job site maneuverability in steep and difficult terrain, or with mixer trucks that move slowly while pouring concrete for street curbs, driveways or other projects in confined spaces.
"By coupling the Allison 4700 RDS with the Paccar MX-11 and the T880 short hood," he adds, "truck operators get a truck with a lighter gross combination weight and an additional six inches of body space on the chassis for more payload."
A lower first gear ratio and an optional second 'deep reverse' make the truck maneuverable particularly on steep grades and in tight settings. The transmission also features no-power interrupts, providing full power shifts and allowing full use of the engine's horsepower.