CCJ's Indicators rounds up the latest reports on trucking business indicators on rates, freight, equipment, the economy and more.
---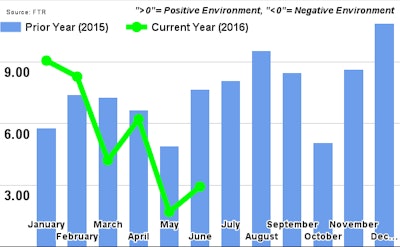 After falling to a five-year low in May, market conditions for trucking companies continue to remain suffocated by slow freight, according to the latest reading of FTR's Trucking Conditions Index.
However, there could be a silver lining, says FTR's Jonathan Starks. "Trucking rates, especially for the dry van segment, have moved notably lower over the last nine to 12 months, but recent data indicates that both contract and spot rates may have hit bottom and could be moving back up."
Improving rates and looming regulations that will restrict trucking's capacity likely would put upward pressure on the index, Starks says.
"We are hearing that many shippers, and fleets, are looking to implement technology well in advance of the due date in order to have time to mitigate any issues that arise from [electronic logging device deployment]," he says. "We are also seeing that the extra capacity that was in the system following the 2014 reversion of the HOS rules has been mostly eliminated, and that any change in HOS or in improving economics could quickly tighten up the market like we saw in 2014.