Several new players entered the freight-matching and truck-routing app market last month at the Great American Trucking Show, held Aug. 25-27 in Dallas, Texas.
The apps perform similar to Uber's ride-sharing idea: Shippers post loads, carriers post trucks and the system automatically matches shippers loads' to carriers' available capacity. Two apps introduced last week — and both aimed at the owner-operator market — do just that. Others offer a varied take on it.
Here's a look at the four new apps unveiled at GATS last month: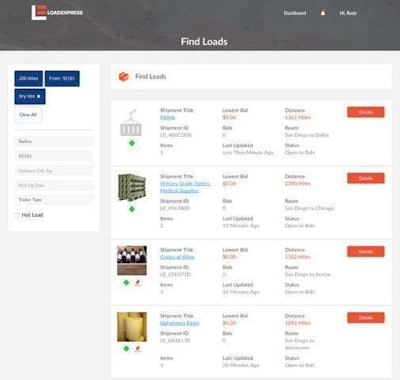 The platform aims to automatically connect shippers and owner-operators in an "end-to-end" system, says LoadExpress V.P. Ken Liu, meaning owner-operators would deal directly with shippers throughout the entirety of the the job.
The service is free for carriers. Shippers are charged a percentage of the load's shipping price.
The system works by automatically connecting loads posted by shippers to carriers matching the load. Carriers create profiles with their basic details, such as equipment type, location, desired routes, MC number and more.
Both parties are alerted when the load-carrier connection is made. If the shipper and carrier accept the bid, LoadExpress connects the two parties via email and text, allowing them to negotiate rates or handle other business. The remainder of the transaction takes place within LoadExpress' portal, which handles all documents electronically, including bills of lading.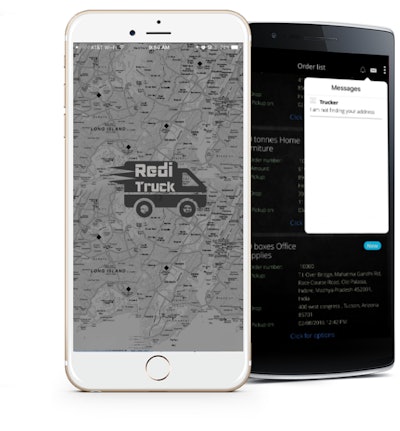 Within RediTruck, shippers and brokers post loads to the portal, owner-operators and carriers post their available capacity and the system automatically matches loads to carriers.
RediTruck is free for carriers. Shippers and brokers are charged a transaction fee. Franks says the system not only matches loads with available trucks, but it also can handle all of the paperwork associated with a freight transaction, including bids and bills of lading. The system's also synced with factoring services like Truckstop.com's LoadPay and Love's Travel Stops in-store factoring services. The system also includes built-in truck-specific routing, allowing shippers and brokers to watch their loads in real-time.
When owner-operators are matched with a load, either based on geography or open capacity, they have the option to accept a shippers bid or deny it. They can also negotiate within the app with the shipper.
RediTruck is completely cloud-based and is platform agnostics, meaning it can work across all devices and all operating systems.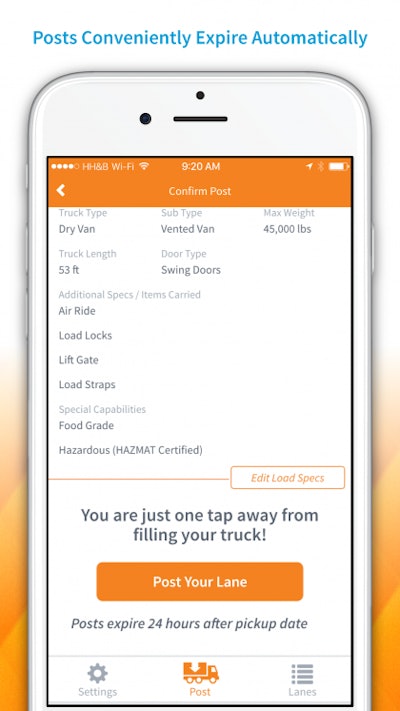 Unlike traditional loadboards, in which shippers and brokers post loads and truckers search for them, HaulHound effectively flips the script. Owner-operators and carriers post details about their truck, their capacity and their desired lanes, and shippers and brokers then search for capacity.
HaulHound says the system is geared toward owner-operators who work the spot market. In addition to listing their equipment type and specializations, owner-operators can list price points, so any calls they receive from brokers or shippers are legitimately priced, says HaulHound's Andy Kim.
The company says it plans to release routing tools and automated freight-matching in coming iterations.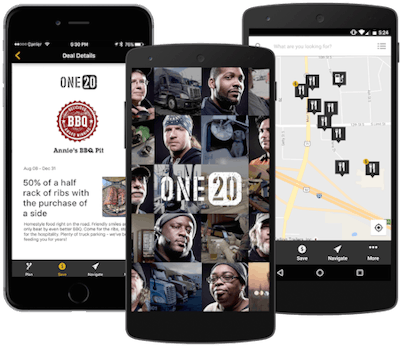 One20 bills itself as a new "membership" for truck operators. The company was founded by trucking tech vets from major trucking tech providers. One20 has partnered with major truck stop chains to give users exclusive discounts on a wide-range of products at truck stops.
Truckers can access truck stop-specific discounts via the One20 app. They can also find star-based ratings for truck stops, restaurants and more provided by other truckers and issue ratings themselves. If a truck stop receives several low ratings, One20's call center will call the truck stop and ask them to address the issues causing the negative reviews, such as dirty bathrooms.
Other tools in the app and on the website include truck-specific navigation and route planning tools, both of which tie into One20's member discounts and truck stop ratings by allowing users to see the most highly rated truck stops and find discounted products along their route.
The company says it will also develop an electronic logging device app and associated tablet ahead of next year's mandate, along with leveraging data from its user base to potentially create a freight-matching platform.