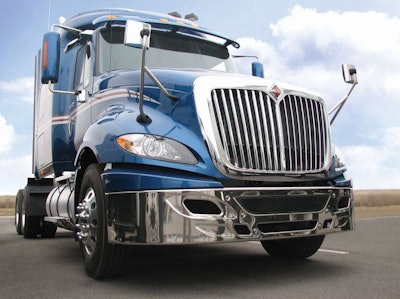 Navistar International Corporation Thursday morning announced a third quarter 2016 net loss of $34 million, up from a net loss of $28 million during the same quarter last year.
Revenue in the quarter slid 18 percent to $2.1 billion thanks in part to soft industry conditions, primarily in the Class 8 market.
"As we pursue our goal of market share growth, we do see some encouraging signs in the area of order share, where year-to-date share of new orders continues to be up for the past three quarters," says Troy A. Clarke, Navistar president and chief executive officer. "Consideration of our products is improving."
Third quarter 2016 gross earnings were $96 million versus EBITDA of $106 million in the same period one year ago. The third quarter 2016 included $36 million in adjustments – including $19 million of pre-existing warranty charges – compares to adjustments of $23 million in the third quarter of 2015.
Tuesday, Navistar announced that it has formed a strategic alliance with Volkswagen Truck & Bus, which includes a $256 million equity investment in Navistar by Volkswagen Truck & Bus. Framework agreements are also in place for strategic technology and supply collaboration and a procurement joint venture.
"We are making significant investments in new products, services and technologies and partnerships that set us apart as the leader in uptime and a company clearly focused on our customers' needs," Clarke says. "This company is well positioned – operationally and product and service wise – to capitalize as market conditions improve."
Truck segment net sales declined 24 percent to $1.4 billion compared to third quarter 2015, due to lower core truck and export truck volumes, a shift in product mix in the company's core market and lower used truck revenue. Chargeouts in the company's core markets (13,100 units) were down 23 percent year-over-year.
"What we're seeing is the big guys, the top of the Class 8 market, are still planning," says President of Navistar Truck & Parts, Bill Kozek, adding all OEMs have been more aggressive in pricing with available capacity utilization.
Navistar's truck segment recorded a loss of $54 million in the third quarter, compared with a year-ago third quarter loss of $36 million. Losses in the truck segment increased, Clarke says, due to higher adjustments to pre-existing warranty and lower used truck margins – the first quarterly decline in used truck inventory in a year.
"Our used truck pricing seems to have stabilized," Clarke says. "I think given the high supply of other used truck brands in the market, the [valuation] gap seems to be closing."
Kozek adds price degradation of International-branded trucks has been driven by EGR-equipped trucks, while values of SCR-outfitted trucks have been "normal."
Parts segment net sales declined $28 million, 4 percent compared to third quarter 2015 due to lower volumes. For the third quarter 2016, the parts segment recorded a profit of $152 million, mostly flat compared to third quarter 2015.
"There's been a soft rate and freight environment recently," Kozek says, "but the economy's been good recently and we expect trucks to continue moving and consuming parts."
Walter Borst, Navistar's chief financial officer, says the company has already achieved $300 million in cost savings through the first nine months of the year, well exceeding the 200 million target set for the calendar year.
With 2017 only three months away, Borst says truck inventory levels and used truck markets are concerns on horizon.
"[Truck order levels in] 2017 could be slightly lower than 2016," he adds. "On the other hand, we expect class 6-7 medium duty truck and bus volumes to remain relatively solid."