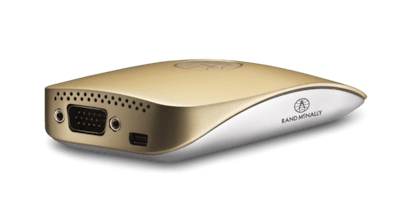 Rand McNally announced its new DC 200 cellular electronic logging and fleet management device, joining the ELD 50 in the company's DriverConnect product lineup.
The DC 200 works with Android devices via Bluetooth or Wi-Fi and is aimed at small- and medium-sized fleets looking for affordable ELD compliance.
Unlike the ELD 50, The DC 200 unit has a built-in multi-mode cell modem that allows fleet managers to track trucks in near real-time as well as message drivers. Once paired with an Android device, the DC 200 enables drivers to view logs, driver vehicle inspection reports and more through Rand McNally's DriverConnect app. It also integrates with TMS systems to allow dispatch systems/fleet management communication.
"The built-in modem is critical if you are a fleet manager and don't want to rely on drivers' smart phone or data plan to have the control to see logs, location and how to communicate," said Ravi Kodavarti, Rand McNally's director of commercial transportation product management.
Rand McNally is offering two plans for the DC 200. The Compliance Plan offers HOS, DVIR, track and trace and new messaging with multi-device support. The Core Plan has all the features and adds IFTA fuel tax reporting and forms-based messaging in workflow management.
The DC 200 will be available in December and priced at $399.99 per unit. Monthly cellular subscriptions will cost $24.99 for the Compliance Plan and $29.99 for the Core Plan.