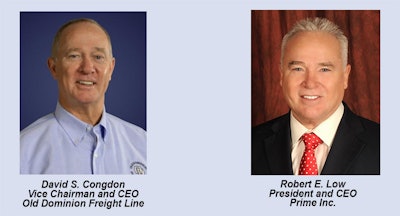 The American Transportation Research Institute has named two trucking company CEOs to its board of directors this week, along with American Trucking Associations' President and CEO Chris Spear.
David S. Congdon, vice chairman and CEO of Old Dominion Freight Line (No. 10 on the CCJ Top 250), and Robert E. Low, president and CEO of Prime Inc. (No. 15), were named to the organization's board along with Spear.
The three new board members replace outgoing members Mike Card, president of Combined Transport; Bill Graves, former ATA president and CEO; and Steve Williams, chairman of Maverick Transportation.