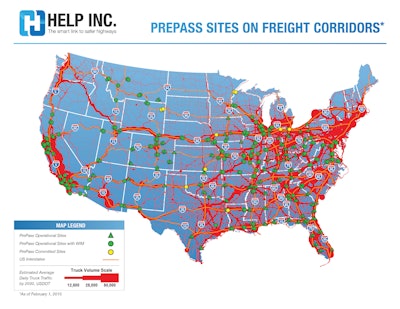 HELP Inc., provider of PrePass, announced it has appointed Andrew Johnson as chief marketing officer. In his new position, Mr. Johnson will lead the marketing function at HELP to support its mission of safety and efficiency within the commercial transportation industry while communicating the benefits of PrePass to state agencies, fleets and professional truck drivers.
"Andrew's marketing experience with safety-based products within the transportation technology industry perfectly aligns with the mission of HELP and its PrePass services," said Karen Rasmussen, president and CEO of HELP Inc. "Future product innovations will build upon the past success of PrePass and help solidify HELP's technology leadership position. Andrew will be a key part of bringing these products to market to provide PrePass users additional functionalities."
Mr. Johnson has over 20 years of marketing leadership experience at leading transportation companies, including Paccar, Zonar and RAM Mounts. He helped launch major technology products including the Zonar 2020 driver tablet and PacTrac telematics at PacLease.
"I'm excited about the opportunity to represent the most reliable and trusted weigh station bypass technology in the industry while helping to promote safety and efficiency on our roads," said Mr. Johnson. "HELP is a safety leader and advocate within trucking and enforcement, and I'm looking forward to working with these groups to help fleets run more efficiently."
HELP Inc. is a non-profit organization working in both the private and public sectors to improve commercial truck safety and efficiency. Its primary product, PrePass is used by over 550,000 commercial trucks from more than 51,000 fleets for bypassing and electronic toll payment.
PrePass recently announced the InforRM fleet safety portal.