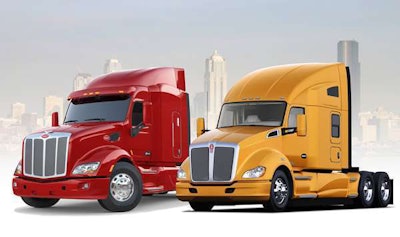 Despite having sat out the 2016 Mid America Trucking Show (MATS), and with many of its competitors heading off to an upstart trucking show in Atlanta next fall, Kenworth and Peterbilt announced Monday they would return to the Louisville, Ky.-based show next year.
Mike Dozier, Kenworth general manager and Paccar vice president says his company will showcase its Kenworth T680 Advantage with new fuel savings options for 2017, as well as the vocational flagship Kenworth T880 and the all-new Kenworth T880S.
"We also will exhibit enhanced technologies that provide driver comfort and convenience, such as Kenworth TruckTech+, Kenworth Power Management with Auto Start and Stop capability, as well as Kenworth Nav+ HD that keeps the driver connected during life on the road," he adds.
"The Mid-America Trucking Show allows Peterbilt to spend quality time with customers and drivers while exhibiting our latest offerings," adds Darrin Siver, Peterbilt general manager and Paccar vice president. "MATS is an outstanding venue for Peterbilt to thank the industry and interact with the many men and women who own, operate or are champions of our products."
Siver says Peterbilt will have a significant presence at the show, exhibiting its Model 579 EPIQ's latest fuel economy enhancements and new day cab configuration, SmartLINQ remote diagnostics technology and a special display for the Red Oval pre-owned truck program.
Additionally, Peterbilt's Innovation & Class tour trailer will be located just outside the exhibit hall, featuring numerous displays and interactive features, including a driving simulator and an augmented reality demonstration that puts the user in a virtual driver's seat with the latest in-cab technologies. Also, Peterbilt is the truck sponsor of the annual Paul K. Young Memorial Truck Beauty Championship, which will include a new "Best Peterbilt in Show" category with awards for first through third place.
The 2017 MATS will be held March 23-25 at the Kentucky Exposition Center.
The 2016 MATS was void of all North American Class 8 truck OEMs as each expressed their preference to see the show shift to an every odd-numbered-year cycle.