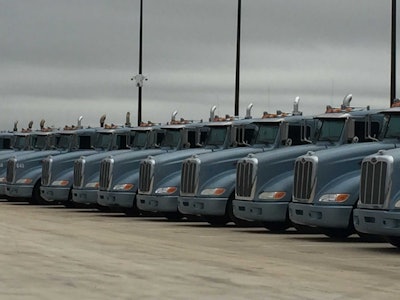 Approximately 13,800 Class 8 trucks were ordered last month according to FTR. October's numbers are similar September levels and bring truck orders for the past 12 months to 188,000 units.
Don Ake, vice president of commercial vehicles at FTR, says the reported net order number for the month was negatively impacted by a significant cleanup of long-term, excess, orders by one OEM.  With this backlog adjustment factored out, net orders would have been closer to approximately 21,300 units, well above industry expectations and would have been the best monthly order activity since December 2015.
"The adjusted number of 21,300 was fueled by the big fleets placing their requirement orders for the first half of 2017," Ake says. "This indicates the freight markets are stabilizing and the fleets are confident enough to replace older trucks."
He adds FTR expects medium-sized and smaller fleets to wait until after the election to place most of their initial 2017 orders.
"Once that uncertainty has been lifted, it should help the equipment markets and the general economy," Ake says, adding he expects monthly orders to hover around the 20,000 units in November and December.
ACT Research President and Senior Analyst Kenny Vieth pegged North American Classes 5-7 orders at 18,400 units, down 10 percent from September and 18 percent compared to year ago October orders.
"The month's [Class 8] net order reflects lingering overcapacity from too many Class 8 tractors being purchased relative to freight creation in 2015 and into early 2016," Veith adds.