Update: Since this story was published, President-elect Trump offered Lt. Gen. Flynn the job of national security adviser. Flynn accepted Friday morning.
Booming populations in developing countries and an unstable Chinese economy are among the country's top concerns coming out of one of the most hotly contested presidential elections in history, says retired U.S. Army Lt. Gen. Michael Flynn, who spoke at the CCJ Fall Symposium in Scottsdale, Ariz., Tuesday.
Flynn this week accepted the prominent role in the administration of President-elect Donald Trump. Trump offered Flynn the job of national security adviser, which Flynn accepted Friday morning.
"This was probably the most important election since George Washington decided not to be king," he says. "We're always one generation away from not having a county, and you cannot forget that."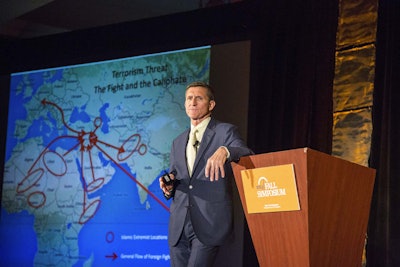 By 2020, Flynn says the number of Internet users is expected to double to 4 billion and between the years 2010 and 2030, the world's population is expected to grow by more than a billion people.
In 1950 the global population was 2.3 billion. That is expected to hit 8.3 billion by 2030 thanks to developing parts of the world that could add volatile political instability with a sudden explosion of people.
"Most of these countries have no government or they're corrupt or crooked," Flynn adds. "The largest growth rate is in the Muslim community, particularly in Africa, the Middle East and Central Asia republics … This is how the world is taking shape over the next 50 years."
By 2035 global energy consumption is expected to rise by 50 percent, with developing countries estimated to make up 84 percent of the demand.
By 2025, the combined Gross Domestic Product of China and India will be bigger than France, Germany, Italy, Japan, the U.K., the U.S. and Canada combined and Flynn says China, already facing an unsteady economy, is concerned over a Trump presidency because of his unpredictability.
In 2000, China exported goods to 9.7 percent of all countries. In 2014, Flynn says that number ballooned to almost 70 percent of the world. China is the top supplier of goods to the U.S.
"This century, our economic system has flipped for the most part," he says. "Since about 1998, we have shut down 70,000 manufacturing plants in this country."
The loss of economic ground to China is only one headwind facing the U.S., who Flynn notes is currently directly involved in combat in seven countries worldwide.
Last year, Flynn says 1,247 radical Islamic terrorist attacks were launched in 50 countries, resulting in 11,774 deaths and 14,303 injuries. He adds the FBI is currently running 1,000 cases against ISIS related persons of interest or groups in the U.S. – at least one active case in all 50 states.
The threat of terrorism isn't exactly new but the manner in which the U.S. has to address it requires understanding, Flynn says, of how it has changed.
Terrorism threat characteristics, Flynn says, feature less complex plotting than previously observed with minimal time spent in training camps. Terrorist groups like ISIS use more sophisticated communication methods but utilize less command and control once activists are deployed.
They increasingly modify devices to avoid scrutiny (IEDs) and recruit via extensive Internet radicalization.
There's also been a shift toward less spectacular attacks.
"We have to think different about security," Flynn says. "Even the types of people that you're hiring. What we see is the threat that we face is they are using [social media] to its advantage."
To fight off the terrorist threat, and Chinese growth, Flynn says the U.S. needs to "get our economic health back up," noting the U.S. has the energy capacity to take care of the rest of the world for at least 500 years.
"China gets 40 percent of its energy through the Persian Gulf," he says, "but China doesn't pay the United States one penny for the security of the Persian Gulf."
"We're guaranteeing China's energy supply," Flynn says. "We're restricted by very passionate groups in the regulation world. We've really shut down our energy sector."
Unlocking the world's Internet, 80 percent of which is controlled by the U.S., to a booming global population will create the opportunity for cyber terrorism, which Flynn says will demand between 700,000 and 1 million jobs created in the cyber security sector in the U.S. by 2025.
"Cyber has come into the world stage so rapidly, it cost the Top 5 banks in the U.S. more than a billion in cyber theft," he says.