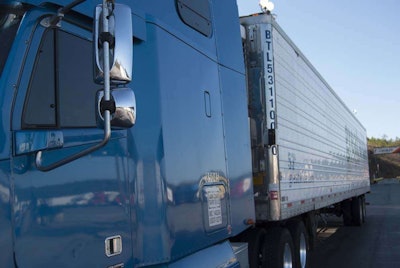 At the 2016 CCJ Fall Symposium in November in Scottsdale, Ariz., we sat down with two exemplary company drivers for a panel discussion on driver challenges – Danny Smith, Truckload Carriers Association & Randall-Reilly's Company Driver of the Year and driver for Big G Express; and David Green, longtime driver and trainer for Werner Enterprises. In addition to their careers over the road, both men are captains for the American Trucking Associations' America's Road Team, a national outreach program of 19 professional drivers who advocate for highway safety and industry image.
Speaking to a ballroom full of fleet executives, both men listed detention time as a top challenge they and other drivers face on the job. Although this is hardly a new issue, so often I hear fleet owners talk about detention time in terms of productivity and profitability losses. But to hear Smith and Green tell it from the driver's perspective, "You're sitting there worrying about, 'I have a mortgage payment and insurance payment to make, and I'm sitting here not making any money,' " said Smith.
"It wears on you," added Green.
A recent survey of 482 company drivers and leased owner-operators by Randall-Reilly's Overdrive and Truckers News shed some light on another problem: fleet respect for drivers, or more specifically, the lack thereof. Unlike truck parking and detention time, this fortunately is an issue that fleet managers and executives can directly control.
In the 2016 What Drivers Want survey, respondents were asked what one thing drivers most disliked about their jobs. The No. 2 response was "it's a thankless job – nobody respects truckers or appreciates what we do" at 19.5 percent, behind only "regulations make it harder to work and make a living" at 45.0 percent. Further down the list was "I'm not making enough money," "my family life is strained because I'm never home" and "I'm not getting enough miles/loads."
Survey respondents also cited lack of respect as a top-three response as reasons fleets are having a hard time finding and retaining drivers, or reasons they or others would consider changing jobs.
"Working for a guy who has never been a driver, it does make the job a hell of a lot more frustrating," said one respondent. Said another: "All the fleets that I've driven for, I've felt somewhat like I was merely a warm soul in the seat."
Dave Jackson, president and CEO of Knight Transportation (CCJ Top 250, No. 24), readily admitted his lack of experience and knowledge of what it is like to pick up and deliver freight every day. So he took matters into his own hands, hopping in the passenger seat alongside longtime Knight driver Allen Reeder for a 33-hour ride-along – hooking up and sweeping out a trailer, performing pre-trip inspections, eating at a truck stop, hanging out in drivers' lounges, sleeping overnight in the bunk, waiting for unload – to get a better understanding of the challenges the company's nearly 5,000 drivers face on the road.
"Industry-wide, there is a fundamental problem, and that is the level of engagement between professional driving associates and the companies they work for," said Jackson. "There's a whole lot more to being a truck driver than driving the truck. There are a lot of little pieces that have to go right, and some of those you control, but most of those you don't. This has been an eye-opening experience for me," he said of his ride-along.
Unless you started your career as a driver or owner-operator, chances are good your eyes are closed to the daily strains on your workforce. Hearing drivers complain about their challenges is one thing, but it is entirely another to see them firsthand. As Jackson learned, gaining that valuable experience can only help soothe the frustration that often occurs between the corporate offices and the roadways.