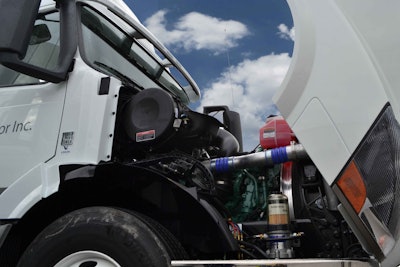 Ontario-based hauler Purolator was the first Canadian carrier to take delivery of Volvo Trucks North America's new 2017 engine-equipped trucks.
The integrated freight and logistics solutions provider took on 19 D13-powered Volvo VNL 300 models that feature a host of new technologies and improvements.
Of Purolator's approximately 460 power units, more than half are Volvo models. Purolator is headquartered in Mississauga, Ontario, with more than 170 operations facilities, 124 shipping centers and 900 authorized shipping agent locations across Canada.
The 2017 D13 received a number of updates for 2017 to improve efficiency by up to 2.5 percent compared to the previous D13, Volvo says. A patented wave piston design helps maximize fuel efficiency by improving flame propagation, while a proven common-rail fuel system enables finer control of the fuel injection, allowing for faster, more accurate injection.
The D13 also features an updated EGR flow sensor with a new double-wall casing, helping reduce condensation and soot buildup in cold weather, while an improved aftertreatment dosing module has been integrated into the fuel filter housing for easier serviceability. Upgrades were also made to the two-speed coolant pump, helping to reduce parasitic losses.
Purolator's new Volvo models are also equipped with Volvo's latest 12-speed I-Shift automated manual transmission, a key component of Volvo's integrated powertrain. The updated I-Shift models received improved hardware for increased durability, as well as an upgraded countershaft for faster shifting and improved performance.
The Volvo I-Shift is equipped with sensors to identify factors such as load, road grade and more, enabling the transmission to ensure the truck is in the right gear for the conditions. Without a traditional clutch pedal to operate, the I-Shift helps improve driver attraction and retention by reducing fatigue during the work day.