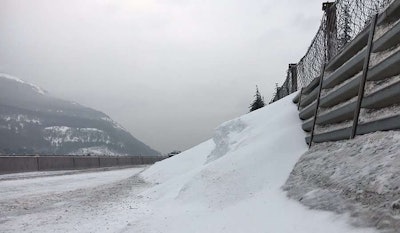 UPDATE: Friday, Jan. 20, 8 a.m. Central: The Oregon Department of Transportation has reopened I-84 in both directions throughout the state, according to a Tweet early Friday morning.
I-90 in Washington state at the Snoqualmie Pass has also been reopened, according to the Washington State Department of Transportation.
UPDATE: Thursday, Jan. 19, 8 a.m. Central: Oregon DOT still has I-84 eastbound closed between milemarkers 216 and 304, as well as I-84 westbound from milemarker 374 to 216. Additionally, the interstate is closed in both directions between milemarkers 17 and 64.
I-90 in Washington also remains closed Thursday morning at the Snoqualmie Pass between Ellensburg and North Bend. WSDOT says crews will assess the road conditions Thursday morning to determine a reopening time.
UPDATE: Wednesday, Jan. 18, 2 p.m. Central: I-84 westbound is closed between milemarkers 374 and 159, while the eastbound side is closed between milemarkers 159 and 304. Both directions of I-84 in the state are also closed between milemarkers 17 and 64. Additionally, I-82 eastbound is closed from milemarker 0 to 11, and westbound from milemarker 11 to 0.
In Washington state, I-90 is closed in both directions at the Snoqualmie Pass beginning at milemarker 34 eastbound and at milemarker 106 westbound. The Washington State DOT says conditions are not safe enough for crews to work on the roads, and the interstate will remain closed at least until Thursday morning. WSDOT says alternate routes include U.S. 2 through Stevens Pass and U.S. 12 through White Pass.
Snowdrifts on I-84 are unpredictable. Trees still coming down, dangerous even for our experienced crews. Stay warm out there. pic.twitter.com/rtTnoCFZAc

— Oregon DOT (@OregonDOT) January 18, 2017
Here's a few shots from I-90. pic.twitter.com/5MlJMPAzl3

— I-90 Snoqualmie Pass (@SnoqualmiePass) January 18, 2017
Original story follows:
Winter Storm Kori, which hit the Pacific Northwest overnight, has shut down a total of 262 miles of I-84 in Oregon .
The interstate is closed in both directions between milemarkers 159 and 374, as well as between milemarkers 17 and 64, according to the Oregon Department of Transportation. ODOT cites black ice and freezing rain as the cause of the closures.
As of Wednesday morning, there has been no indication as to when the interstate might reopen.
Check back throughout the day for updates.