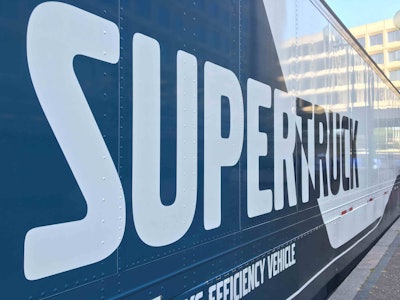 Volvo unveiled the company's SuperTruck prototype in Washington D.C. late last year, bringing closure to a development process that took engineers and designers 5 years to assemble.
That truck has endured thousands of miles of validation testing and the successes of the program gave rise to a sequel from the Department of Energy. Volvo was awarded a grant to participate in the SuperTruck II project, a program that seeks to double freight efficiency on Class 8 tractor-trailers and SuperTruck I will play a large part in that initiative.
"SuperTruck is the technology truck for SuperTruck II," says Keith Brantley, Volvo Truck's advanced complete vehicle lead project manager.
"After you finish something like SuperTruck and you think about doing another one, you think you might be out of ideas," Brantley says. "Like, what else can we do? But it's not like that at all. We already have more concepts and ideas for SuperTruck II than we ever did for the first one."
SuperTruck I still has about 18 months worth of validation and testing ahead but among the refinements Brantley hopes to make on the second truck is an improvement to the hotel load system, which he expects will include an electric heater that will allow him to dump the fuel-fired heater from SuperTruck I.
"We wanted an electric heater originally, but we couldn't find one that would work," he says. "An electric heater would mean that the entire HVAC could run on the battery system."
Other holdovers from SuperTruck I are likely to be the smart cruise control system, energy management platform – including the integration of solar panels – the engine configurations and the truck's aluminum frame.
Brantley has already ordered the truck for SuperTruck II – a VNM 430 – but beyond that he's not ready to disclose many more of his plans.
"SuperTruck II will be a different size and shape," he concedes, "and better than [SuperTruck I]."