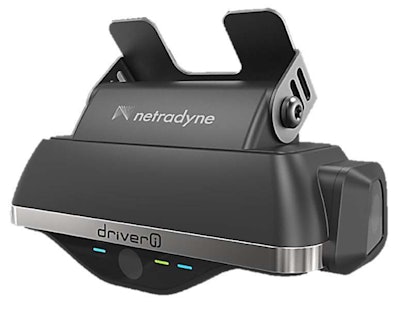 Netradyne, a provider of artificial intelligence and IoT systems, has been named a Business Intelligence Group 2017 BIG Innovation Award winner for its Driveri system.
Netradyne's Driveri platform is a Quad-HD, vision-based safety system that uses Artificial Intelligence to capture and analyze every minute of the driving day to provide fleets with faster insights on driver behavior, positive performance and at-risk events.
Driveri was recognized in the commercial vehicle safety category for its 'edge computing' processing capability provided by an integrated TeraFLOP processor. The processor is capable of one trillion calculations per second and analyzes factors on the road including pedestrians, road signs, speed limits, following distance, traffic lights and hard-braking events among others.
Automated updates are sent to fleet managers as they occur to ensure their fleet is performing safely and the timeliness of the data allows the fleet to apply resources reducing delays in their effort to recognize and improve driver performance, helping to save money and lives.
Organizations from around the globe submitted their recent innovations for consideration in the 2017 BIG Innovation Awards. Nominations were then judged by a select group of business leaders and executives who volunteer their time and expertise to score submissions and provide feedback.
"The sheer amount of innovation is accelerating in virtually every industry as new technology allows corporations and other organizations to rethink how they approach and solve real problems that affect the way we work, love and play," said Maria Jimenez, chief operating officer of the Business Intelligence Group.