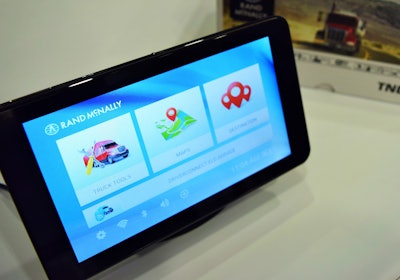 The new TND 740 from Rand McNally builds of the success of the original truck-specific GPS, says company Marketing Vice President Kendra Ensor, first introduced at the Mid-America Trucking Show in 2009. Since, following the fourth generation of the baseline TND, the TND 730, in its 161st year in business Rand McNally has now launched the fifth generation of the TND, the 740. The seven-inch tablet "takes some of the good things from [the 730] and adds a lightning-quick, redesigned quadcore processor, along with double the storage [16 gigabytes] and double the memory" [1 GB], says Director of Product Management Venky Rao.
"A high-resolution display," likewise, builds a "rich experience … with an overhauled user interface — people love the simplicity," he adds, "the easy access to things that mean the most to drivers."
With a suggested retail price of $399.99, Rao says, buyers can expect to see it available for sale in May.
Rao notes he'd heard from drivers about previous iterations of the product that, when mounted in the vehicle, were cumbersome to disconnect for handheld usage. "We re-designed it so that all the wiring, all the cables run into a magnetic smart-mount that has magnets and pins on it enabling the interaction with power as well as audio," Rao says. "This is something we introduced in our top-tier tablets."
Also, usability is enhanced with over-the-air updates when connected to a wifi hotspot. "Our maps, too, will be refreshed" just as they have in the past, Rao says. Connected to a hotspot for an internet connection, the GPS/mapping features also will enable real-time traffic. Fuel prices and weather conditions are also available at points along the route.
Rand McNally's DriverConnect logbook app comes installed on the device. If paired with the ELD50 and a cellular hotspot, or Rand McNally's new DC200 cellular-enabled telematics device, carriers utilizing the device can go fully ELD-capable to satisfy the ELD mandate in December "whenever the timing is right for them," says Ravi Kodavarti, commercial products director.
Utilization of the logbook app alone ahead of the mandate is free of charge, and can be a simple way to game the mandate to determine whether it's going to impact your operation, whether through the TND or using your Android smartphone.
Rand McNally's app supports a variety of ELD exemptions, including oil field and ag exemptions, and alternative intrastate rulesets in an intuitive way, as Kodavarti demonstrated at the company's MATS press conference.