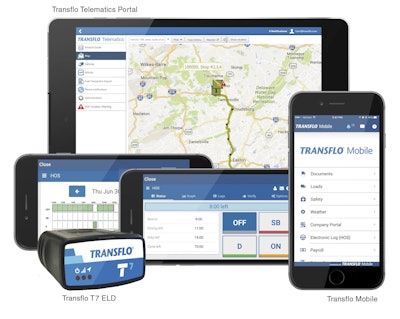 Pegasus TransTech, a provider of enterprise mobility, telematics, and business process automation for the transportation industry released a new mobile-based partner integration platform: Transflo Connect.
The new platform brings a network of clients, solution partners, developers, and end users together in a transportation cloud. Partners can code to or integrate existing solutions into the Transflo Mobile platform, thereby reaching new audiences.
Commercial drivers, the end users of Transflo Mobile, will benefit from having feature sets available from multiple providers in the same Transflo mobile app that they use each day to manage their tasks, the company says.
"We've now added TMS, telematics, truck scales, and travel stop partner solutions through Transflo's open architecture," said Salem Elnahwy, chief technology officer of Pegasus TransTech. With today's announcement, we've opened up the platform to a whole new group of potential partners and continue to connect the transportation industry through our technology. For enterprise mobility, there just isn't anything else like it."
Partners wishing to integrate with the mobile platform can do so through a new Transflo Connect Partner Program led by Mark Spicer, the company's vice president of integrated solutions.
Features and benefits of the Transflo Connect Platform include:
Connecting into the Transflo Mobile architecture
Launching or triggering an application from the platform
Delivering partner functionality to the main menu of Transflo Mobile
Activating alerts and notifications to targeted groups of users
Potentially accessing hundreds of thousands of commercial drivers users