Arnold Transportation Services, "the Original Regional Carrier," is a full-service truckload carrier headquartered in Grand Prairie, Texas, with a heritage that dates back to the 1930s when its strong foundation in regional service was established.
Today the company provides irregular route truckload service, dedicated solutions and logistics support. Through these services, Arnold creates a wide range of possibilities to assure that its customer products are delivered on time.
Its operations are strategically concentrated in the South Central and Midwest states to consistently re-create capacity for its customers in, between and around major markets.
Arnold is owned by Tenex Capital Management (55 percent) and U.S. Xpress (45 percent), as a result of a merger in 2013 with LinkAmerica Corp., a truckload and logistics carrier with operations throughout the Southeast and Southwest.
When Mike Driggers became president of Arnold Transportation Services Inc. in late 2014, safety became the top priority.
"It was pretty clear we needed to go in a different direction with our safety program," Driggers says.
He and senior management had already decided to implement a video-based safety system before bringing in Nelson to lead the safety department. Nelson recommended the technology be put on hold until fundamental changes were made.
"I knew one of the worst things you can do is enter into technology when you have other issues. Technology compounds your problem. It hurts more than it helps," he said.
One of the first changes was to discontinue the practice of hiring and training drivers with limited CDL experience, he says. Inexperience caused higher accident frequency and compounds other issues like driver turnover.
Nelson also established a new driver training and coaching program based on an industry leading system. Other changes made by management eliminated sign-on bonuses and paid drivers a referral bonus instead, Driggers says.
By mid-2015, the fleet's trends for accident frequency and severity had moved in the right direction. At this time management decided to move forward with a video-based driver safety system, Nelson says.
Click on one of the topics below to continue:
Focused on distraction: Management has taken a different approach towards video event recorders. Rather than mandate their use, the technology is installed in trucks for drivers that voluntarily agree to use it.
Risk awareness and training: Arnold Transportation turns analytics and insights into results through driver orientation training, ongoing coaching and communications.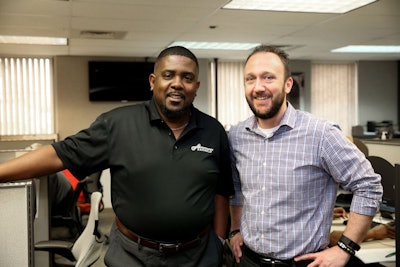 Future improvements: Going forward, the company is working to develop a comprehensive driver scorecard from multiple data sources.