CCJ's Indicators rounds up the latest reports on trucking business indicators on rates, freight, equipment, the economy and more.
---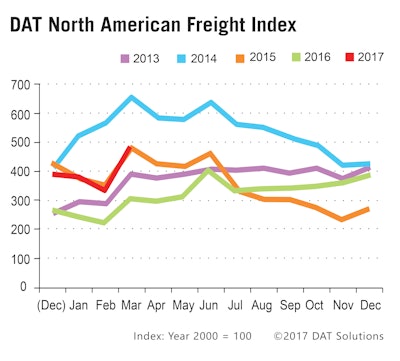 Freight volume jumped in March, rates slow to react: Freight volume on the spot market rose 47 percent in March from the same month last year, according to the monthly DAT North American Freight Index. However, rates saw "only modest gains," says DAT.
Reefer and van gained a penny in the month from February. An influx of flatbed freight, however, spurred a 6-cent per-mile gain for flatbed rates in March, DAT reports. Flatbed freight availability climbed 45 percent in the month, DAT says, pushing the load-to-truck ratio to 36.6 loads per truck — a supply and demand imbalance that favored carriers in rate negotiations.
The number of van loads posted to DAT's board rose 47 percent, but the number of truck postings rose too, keeping the segment's load-to-truck ratio at 3.2 loads per truck. Likewise, reefer loads rose 49 percent, but available truck capacity climbed too, which held back rate gains.
---
'Bluntly stated, contract pricing remains ugly': This line comes from a recent report from investment firm Stifel, who says many carriers continue to report weak gains on the contract market for truckload rates. "Few [shippers] are willing to grant anything more than a token price increase," says Stifel's report, "and often those increases apply to just a few selected lanes."