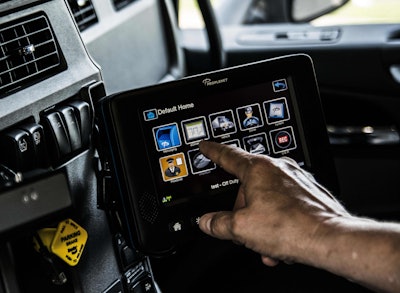 PeopleNet, a Trimble Company and provider of fleet mobility technology, added new applications for fleets that Android-based tablets with its ConnectedFleet platform.
A weather alerting application called myRoads gives drivers alert information on current and forecasted road and weather conditions along their route. Another new application, myMedia, allows its fleet customers to exchange multimedia files with drivers.
myRoads
PeopleNet says fleets can access data related to current radar, temperature, precipitation and wind speed to determine if a vehicle is in or near inclement weather that could impact driver safety and delivery time.
The myRoads text-to-speech functionality allows drivers to play detailed weather warnings related to severe thunderstorms, tornadoes, torrential rains and heavy winds. When the truck is not in motion, drivers can view animated maps that show road conditions as well as long-term weather forecasts.
According to the most recent U.S. Department of Transportation study between 2005 and 2014, 22 percent of all vehicle crashes were weather-related. Of these crashes, 73 percent are caused by wet roadways. In addition, the Federal Highway Administration projects that weather-related delays add $3.4 million a year to freight costs.
myMedia
With myMedia, users can send multiple files at a time with the ability to target distribution to an entire fleet, specific individuals or a customized distribution list.
"With open platforms today, carriers expect to have the ability to use the platform creatively, whether it is to share important company news and training videos across a driver base or for an individual driver to submit images of Proof of Delivery (POD) documents to the back office," said Eric Witty, vice president of product management for PeopleNet.
When a driver receives a file, myMedia stores it locally on the in-cab display, so the driver can quickly access it later, regardless if a device is connected to a network. Drivers can also take photos and videos in the field, storing them on their Android device and sending them to the back office.