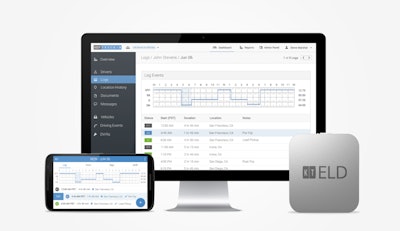 Electronic logs and fleet telematics provider KeepTruckin is planning its next moves following an additional $18 million in Series B funding, led by Scale Venture Partners and existing investors GV (formerly Google Ventures) and Index Ventures.
KeepTruckin began in 2013 with a free app for drivers to track hours-of-service logs on Android and iPhone devices. The company then developed a compliant electronic logging device (ELD) along with a fleet management and telematics platform.
From the start, the ELD mandate has been a golden market opportunity to get drivers and fleets connected to its cloud-based network.
"If we are successful in bringing a significant number of drivers, vehicles and carriers into our network on back of the ELD mandate, there is so much more we can do for and with them," says Shoaib Makini, founder and CEO of KeepTruckin.
With the additional funding, KeepTruckin plans to expand its modular platform to pursue new opportunities in freight matching, driver performance, insurance, back-office automation and other areas, he says.
The company will soon announce remote diagnostics and a driver performance monitoring feature. It also plans to add a video event recorder.
"We will do a lot more than electronic logs," he said. "We will be investing in engineering, next-generation hardware and continuous improvement in software as well as more functionality."
The company has hundreds of thousands of drivers that use its electronic logging app today. More than 10,000 subscriptions have been sold for its ELD-compliant platform.
The company is in a growth stage and could be profitable today if it wanted to, but "we want to lead technology," he said. "We will create the opportunity for tomorrow."
As for Uber's recent launch of Uber Freight, Makini doesn't see a threat.
"They are no different than all other tech-enabled brokers. They are going out and trying to get a driver to put an app on their phone to dispatch. What we are going to get is a broad and deep base of drivers, vehicles and carriers that are using our ELD and be able to extend additional services. I'm not worried about (Uber) dominating the freight market."
KeepTruckin is able to expose ELD data from owner operators and fleets to brokers with the carrier's consent. Its customers may want to share their HOS status with online freight matching platforms like DAT and Truckstop.com or with brokers directly, he says.
By sharing ELD information, brokers will immediately know where the truck is and whether or not it has available capacity, thus eliminating inefficiency in the freight matching process.
"It's going to be a fun year. We are excited about our position," he says.