CCJ's Indicators rounds up the latest reports on trucking business indicators on rates, freight, equipment, the economy and more.
---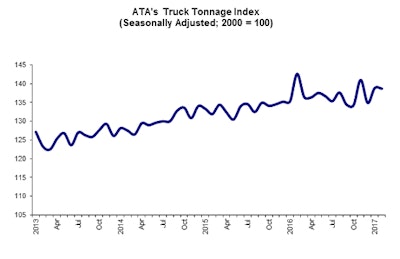 Tonnage slips again: The amount of freight moved in April by the trucking industry, as measured by ATA's monthly Truck Tonnage Index, fell 2.5 percent in April from March, ATA reported Tuesday.
The dip follows a 1.1 percent dip in March and a similar drop in February. Compared to the same month in 2016, tonnage was down 1.8 percent, ATA noted. Year to date, tonnage was only down three-tenths of a percent.
"I have to admit that April's contraction is a bit surprising, especially considering the anecdotal reports I've been hearing from fleets regarding freight levels," said ATA Chief Economist Bob Costello. "It's not necessarily that tonnage levels fell in April that is surprising, but the size of the decrease."
Costello says he still expects "moderate growth going forward" as the economy gains steam.
---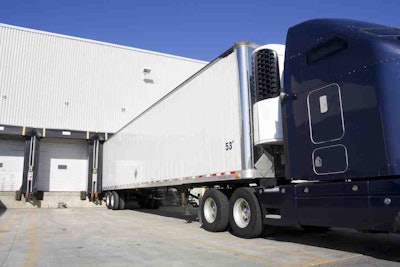 Shippers prefer 'pop-up fleets' to raising contract rates: In a report issued last week by investment firm Stifel, analysts noted that while there could be a "temporary head fake" relative to trucking industry's capacity and available freight, shippers are still reluctant to raise contract rates with carriers. "More shippers seem to prefer to handle these temporary tightenings with temporary solutions, such as the creation of 'pop-up fleets' or temporary reliance on the spot market," Stifel's report says. It defines pop-up fleet as a temporary dedicated fleet operation that moves freight for temporarily high rates. From the report: "Shippers seem to be asking, why upwardly adjust my contract rates when these expensive but temporary solutions are available?"