PeopleNet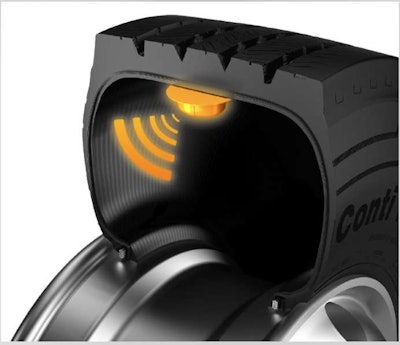 , a Trimble Company and provider of fleet mobility technology, has integrated a tire pressure monitoring system from Continental into its platform.
After the completion of a successful beta test, the ContiPressureCheck system is now available to fleets that have deployed PeopleNet technology in their trucks. The tire pressure monitoring system (TPMS) allows both drivers and back-office personnel to continuously monitor the real-time pressure and temperature of their tires.
"Continental has built its reputation on being a pioneer in the tire industry," said Eric Witty, vice president of product for PeopleNet. "We are excited to offer our customers this solution to help keep their fleets running efficiently and their drivers safe."
Unlike many TPMS sensors that are wheel or valve-mounted, the ContiPressureCheck (CPC) sensor is mounted on the inner liner of a tire. This sensor placement protects it from theft or damage and provides a highly-accurate measurement of the tire's pressure and temperature. The CPC system can accommodate multiple configurations for a broad range of commercial tire types, including tractors, trailers as well as buses and coaches.
"With PeopleNet's expertise in the world of telematics and our long history of providing truck tire solutions, this relationship gives fleets the best of both worlds," said Paul Williams, executive vice president, Continental Commercial Vehicle Tires. "In addition to the positive impact that correct air pressure has on driver safety, CPC will also help increase tire life and minimize downtime related to tire failures."