CCJ's Indicators rounds up the latest reports on trucking business indicators on rates, freight, equipment, the economy and more.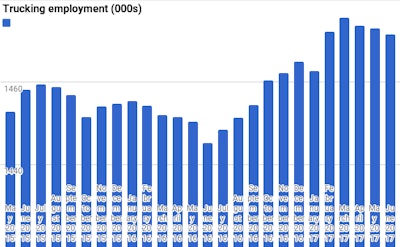 Trucking employment down again: Total employment in the for-hire trucking industry fell by 1,400 jobs in June, according to the Department of Labor's monthly Employment Situation Report, released July 7.
The DOL also downwardly revised May's employment number by 700 jobs.
June's dip comes amid an otherwise solid month for employment for the U.S. economy, which added 222,000 jobs in the month. The country's unemployment rate was 4.4 percent.
Trucking industry employment in June totaled 1.4716 million — about 25,000 jobs greater than last June.
The construction industry in June added 16,000 jobs. The manufacturing sector added 1,000 jobs. The transportation and warehousing sector, which includes trucking, added 2,400 jobs.
Market conditions for shippers signal rate increases could loom: FTR's Shippers Conditions Index moved further into negative territory for shippers, mostly reflecting tighter trucking capacity. For now, shippers have been able to fend off contract rate increases, says FTR.
But if capacity continues to tighten through the year, rate increases could follow, particularly on the spot market, FTR notes.